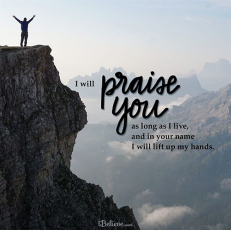 Mingus View Presbyterian Church. . .
. . . a fellowship of believers proclaiming the Gospel of Jesus Christ through worship, nurture, and striving to exhibit the Kingdom of God to our community and the world.
Sunday, March 24, 2019, 10:00 a.m.
3rd Sunday in Lent
"O God, you are my God, I seek you. . .So I will bless you as long as I live; I will lift up my hands and call on your name." Psalm 63:1a, 4
All are invited to worship at Mingus View Presbyterian Church on Sunday, March 24th , the third Sunday in Lent. Pastor Lois Hildenbrand's sermon is entitled "God's Counter Intuitive Covenant" (Genesis 15:1-12, 17-18). The Bell Choir will play "Morning Prayaer" by Tammy Waldrop & Bob Burroughs. Hymns for the day include "Holy Ground", "If Thou but Trust in God to Guide Thee", "Lord Christ, When Frist You Came to Earth" and "What a Friend We Have in Jesus".