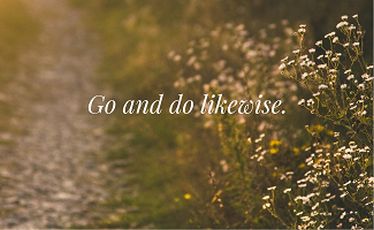 Mingus View Presbyterian Church. . .
. . . a fellowship of believers proclaiming the Gospel of Jesus Christ through worship, nurture, and striving to exhibit the Kingdom of God to our community and the world.

Sunday, July 14, 2019, 10:00 a.m.
15th Sunday in Ordinary Time
""Give justice to the weak and the orphans; maintain the right of the lowly and the destitute. Rescue the weak and the needy; deliver them from the hand of the wicked." Psalm 82:3-4
All are invited to worship at Mingus View Presbyterian Church on Sunday, July 14th.. Pastor Lois Hildenbrand's sermon is entitled "Neighborly Kindness." (Luke 10:15 – 37). The choir will sing "Let Everything Praise the Lord" by Mark Hayes. Hymns for the day include "Give Thanks", "God of Grace and God of Glory", "Jesu, Jesu, Fill Us With Your Love" and "I'm Gonna Live So God Can Use Me".
MINGUS VIEW PRESBYTERIAN CHURCH
ALL ARE WELCOME
Our Sunday worship service begins at 10:00 a.m. Following the guidelines of the Presbyterian Church (U.S.A.) Book of Order, our weekly worship is planned around five major actions:
Gathering around the word – a joyous time of song and greeting one another in the name of Christ, as well as preparing our hearts to receive the Word by confessing our sins.
Proclaiming the word – readings from the Old & New Testaments, special music from our choir or soloists, and a sermon based on the Scripture.
Responding to the word – we respond to the Good News of God's word to us through our prayers and offerings.
The sealing of the word – a benediction and blessings send us out.
Bearing and following the word into the world – it is now our responsibility to take what we heard and live our lives to God's glory.
At Mingus View, we celebrate the Sacrament of Communion on the first Sunday of every month. All are welcome to the Lord's table. Gluten-free bread and plain water are available for those unable to eat the traditional communion food.